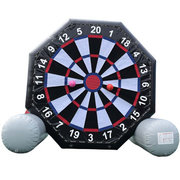 Giant Soccer Darts
$249.00
Dimensions: 9ft L x 19ft W x 16ft H
Set Up Area:
Outlets: 1
4 Games in One - Soccer Darts!
Each Soccer Dart is numbered from 1-20 around the board. You play soccer darts by kicking a soccer ball onto different parts of the board, counting your points as you go( The boys will stick very easily. Whoever scores the most points when the time is up, wins! (time is decided by the organizer). Comes with full size sticky Soccer balls and Footballs.
(Scroll Down to See More Pics and Pricing Details)
You can also get the configuration for Soccer, Baseball and Foot Ball!