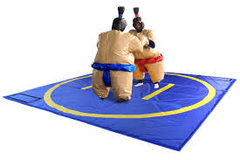 Sumo Suits
$249.00
Dimensions: (Universal sizes) ages 7- adult
Set Up Area:
Outlets:
Exciting Sumo Suits Game!
These Heavly padded Sumo Suits are fun for children and adults alike. You can't on hours of fun and laughs. Our suits Include two children -adult sizes that are extremy universal and also come with two helmets. We also provide one square sumo mat with a round circle on it. The goal is to push your oppent out side the ring while trying not laugh and fall down.
Watch the video below to the sumo suits in action: