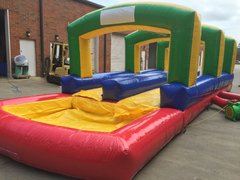 Extra Long (Double Lane Slip & Slide) with Over Size Pool
$249.00
Dimensions:
Set Up Area: 42ft(L)x13ft (W)x12ft(H)
Outlets:
Note: this unit is about 12 ft longer than the average coomerical slip & Slide- Make sure you measure your yard before hand, it's a beast of a slide. Set up area: 42ft(L)x13ft (W)x12ft(H)
Gurantted hit, who desn't want to side with their friends? Awsome choice for kids, and adults. The pool is big enough to lounge in, but not suggested if people are racing towards you head first. OUCh! There is a sprinler system that runs all the way down the unit, don't be surprise if your guest just take a shower nap after they tire out. By far the owners favorite.
All inflabtles rentals will be installed and ready to use well before your event begins.
5 hour rentals regular pricing ( This guaranteed time)
Add up to 2 additonal hours for only $ 20!
Party overnight for only 30 more
All
no extra charge. ( Optional)