Twister Swing Carnival Ride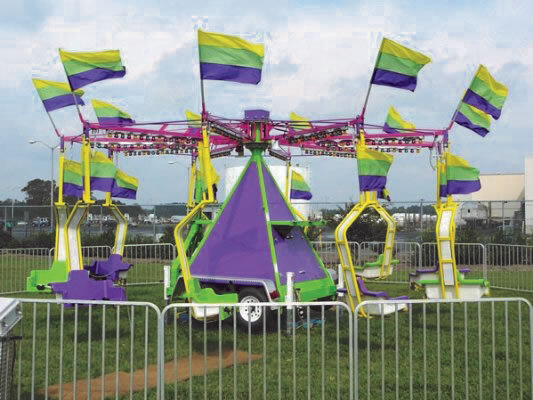 Setup Area: Height: 14' Width: 36' Length: 36'
Actual Size: Height: 14' Width: 36' Length: 36'
Monitors: 1 Adult
Age Group: 3 & Up
Description
The Twister Swing Carnival Ride is an exhilarating and thrilling attraction that will take riders on a whirlwind adventure. With its vibrant colors and eye-catching design, this carnival ride is sure to attract crowds of all ages.
As riders step on board the Twister Swing, they will be securely fastened into their seats, ready to experience the excitement that awaits. Once the ride begins, the swings will start to rotate, gradually picking up speed and height. As the swings ascend higher and higher, riders will feel the rush of wind against their faces and the adrenaline pumping through their veins.
The Twister Swing Carnival Ride offers a unique and unforgettable experience. With its smooth and fluid motion, riders will feel like they are soaring through the air, creating a sense of weightlessness and freedom. The combination of the swinging motion and the breathtaking views from above creates an immersive and thrilling experience that will leave riders wanting more.
Safety is a top priority with the Twister Swing Carnival Ride. The ride is equipped with state-of-the-art safety features, including secure restraints and regular maintenance checks to ensure optimal performance and rider comfort.
Whether you are planning a carnival, fair, or amusement park, the Twister Swing Carnival Ride is a must-have attraction. Its visually appealing design, exhilarating motion, and commitment to safety make it a crowd favorite. So, get ready to spin, swing, and soar with the Twister Swing Carnival Ride – an adventure you won't want to miss!